FAQ
Contact: hello [@] exauoliveoil.com
Orders
2022 Harvest Pre-orders

We will begin accepting pre-orders for the 2022 Harvest soon.
How Do Pre-orders Work?

Pre-order products do not ship immediately. They usually ship within 3 months of the order date, however, timelines may vary. We will notify you via email when your order has shipped. Make sure you're subscribed to receive general shipping updates.
Refunds

Due to the nature of our products, all sales are final.
Order Cancellations

If you would like to cancel an order please contact us immediately. We cannot guarantee your order will be canceled.
Shipping and Carriers

Packages usually arrive within 2 to 6 business days.
My Package Didn't Arrive

If your package hasn't arrived within 7 business days of the ship date please contact us ASAP so we can get things cleared up.

If you're requesting a refund or reship for an undelivered package there are several things to note:

The customer must notify us via email within 30 calendar days of the ship date. If we are not notified within the stated timeframe we are unable to refund or reship the package.
Please allow up to 60 calendar days for us to refund or reship a package.
My Package Arrived Damaged

Eek! We're sorry that happened. In order to receive a replacement OR refund the recipient and/or customer MUST provide us with photographs for insurance purposes.

We cannot replace broken bottles or provide refunds without photographic evidence. Please email us photos.
International Shipping

We currently only ship within the US and Canada. We invite you to join our newsletter to stay up to date on shipping updates.
Help, Oil isn't Pouring Out!

All EXAU bottles have anti-tamper closures (tops) which are required in the EU. If oil isn't exiting then it's 'stuck'. Here's how to get olive oil to exit:

Remove the twist-off cap.
Angle the bottle at 45 degrees over a plate or pan as if to pour.
Hit the bottom of the olive oil gently and then harder (like a Heinz ketchup bottle).
If oil still does not exit place the cap back on (be sure to tighten) and gently flip the bottle upside down then right side up.
Proceed to pour and repeat steps if necessary.
Olive Oil Club
How Can I Access My Membership?

**On July 30, 2022 we moved website and subscription providers which reset all account passwords. If you have trouble accessing your account please try creating a new password. If that doesn't work then please try creating a new account with your original email address. If you still have trouble please contact us.**

Login to your account
On the right click 'Manage Subscriptions'
From there you can manage your subscription(s)
How Can I Update My Shipping Address?

Login to your account
Click 'Shipping Addresses'
Update your shipping address
How Can I Update My Payment Details?

Login to your account
Click 'Payment Methods'
Click 'Add Payment Method'
Add your credit/debit card details
Can I Cancel My Membership?

Yes, you can cancel your membership at any timebeforethe next renewal date. Wecannotcancel memberships on the date of renewals.
Can I Upgrade / Downgrade / Skip a Shipment?

Yes! If you login to your account you can change your membership and skip shipments. If you have trouble please email us.
Help, I Forgot to Update My Shipping Address Before the Renewal Date!

Please contact us immediately and we will do everything we can to stop that package from leaving the warehouse. It's the responsibility of the club member to keep their address(es) up to date.

Unfortunately, if the package has already left we're not liable. If a customer chooses to reroute or forward the package to their new address and it results in a chargeback fee to us, we will pass that fee on to the customer in the form of an invoice.
General
How to Pronounce EXAU

Ex – ow. Like 'ow' that hurt and 'ex' as in 'ex'-boyfriend.
What Does EXAU Mean?

It stands for Ex Albis Ulivis Olive Oil, which is long and dramatic so we shortened it to EXAU.

In ancient Rome, Ex Albis Ulivis was the oil reserved for nobility. Harvest would begin while the olives were still green, creating a high-profile EVOO. We go to great lengths to ensure our olive oil is of the highest quality so we thought this name was a good fit.
Who Make EXAU Olive Oil?

We produce our own olive oil! Our family has been producing oil for almost 100 years. Cofounder, Giuseppe, is a 3rd generation olive oil producer. Skyler and Giuseppe both work harvest each fall. As we continue to grow we will partner with local farms to continue producing our oils. Read more about us here.
Why is Your Olive Oil Spicy?

You're tasting a full blast of antioxidants, polyphenols to be exact. That's what it's supposed to taste like. If olive oil is too light or flat there's a very high chance that it's rancid, which is no fun. Always check the harvest and bottle date of an EVOO.
Do Your Oils Have Nuts in Them?

No, our oils do not have any nuts in them. Please review the ingredients list on the back of the product.

When we refer to walnut, almond, etc. we're talking about the organoleptic (sensory) characteristics of the oil. This is similar to tasting notes of cherry or apple when drinking wine.
Do You Have Any Travel Advice?

Yes, we offer travel consulting for Calabria and southern Italy! Email us to schedule a 15 minute introduction call today.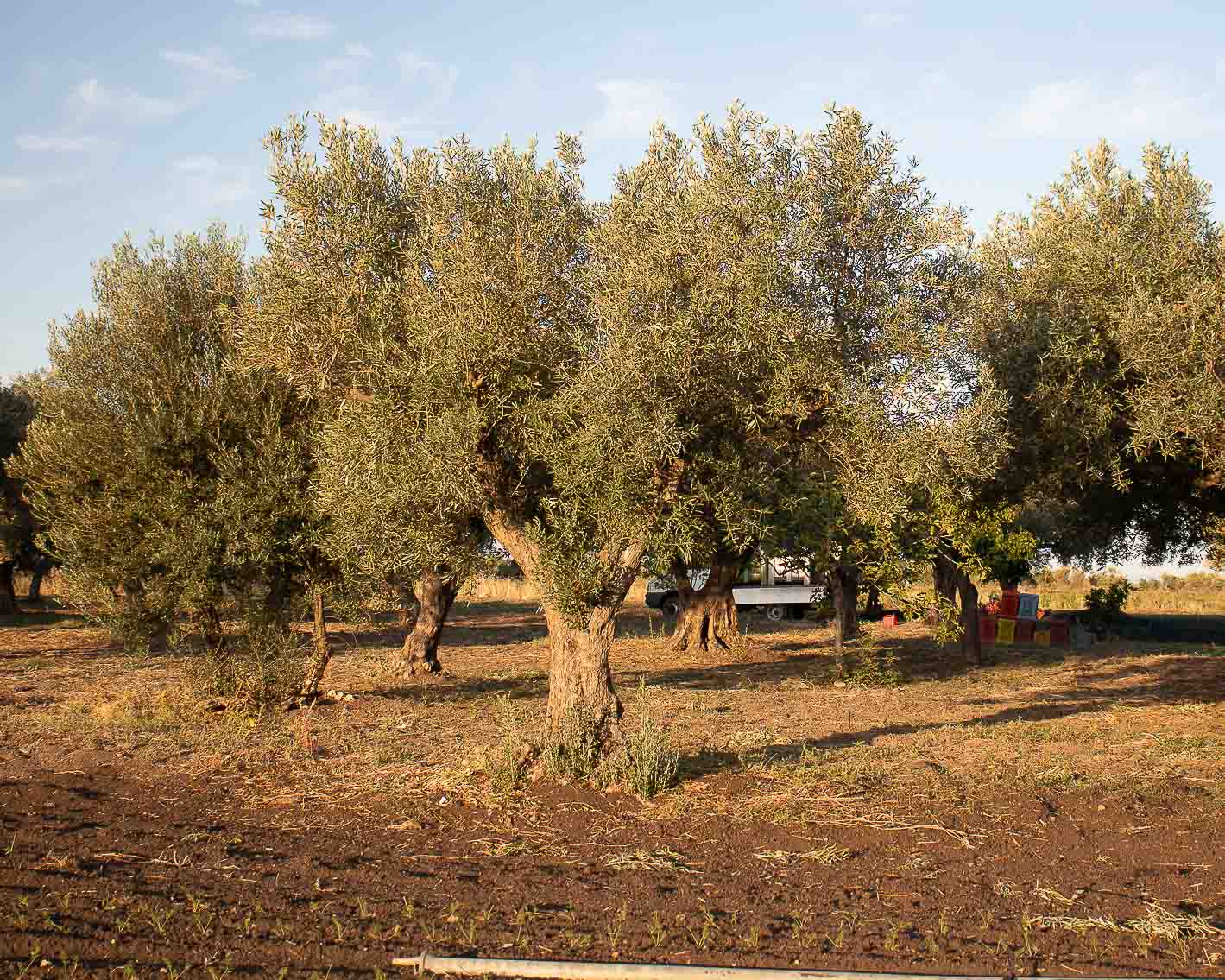 Explore the Blog
Explore our blog, a space completely dedicated to helping olive oil lovers better understand their favorite cooking fat!
Explore now